Most tornadoes are found in the Great Plains of the central United States – an ideal environment for the formation of severe thunderstorms. In this area, known as Tornado Alley, storms are caused when dry cold air moving south from Canada meets warm moist air traveling north from the Gulf of Mexico. Tornadoes can form at any time of year, but most occur in the spring and summer months along with thunderstorms. May and June are usually the peak months for tornadoes.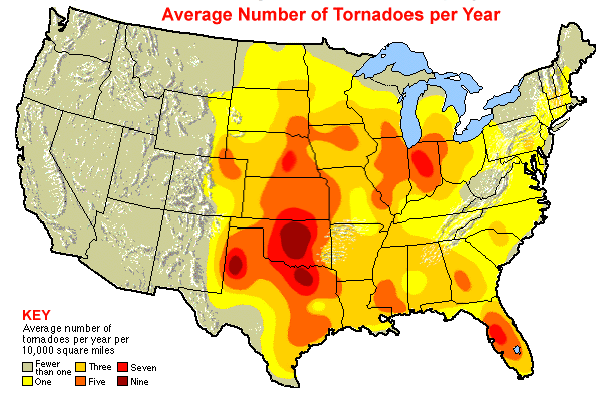 Notice that the location with the highest number of thunderstorms does not match the location with the highest number of tornadoes.

The Great Plains are conducive to the type of thunderstorms (supercells) that spawn tornadoes. It is in this region that cool, dry air in the upper levels of the atmosphere caps warm, humid surface air. This situation leads to a very unstable atmosphere and the development of severe thunderstorms.