David Gochis - Hydrometeorologist
Monitoring the North American monsoon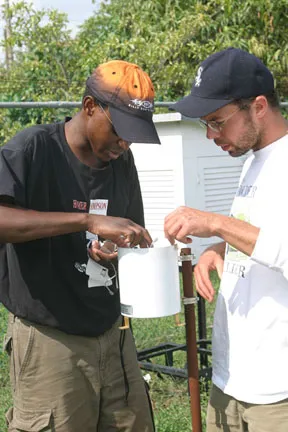 For Dave Gochis, a day on the job as an NCAR scientist might mean driving around the rural backroads of northern Mexico, setting up dozens of gauges the size of cookie jars that record rainfall to the nearest millimeter.
Yet despite the specificity of his work, Dave never loses sight of the larger picture.  "It's fun to go to work every day and participate in the big question of how the natural world works and what part we have in influencing it," he says.  "The opportunity to study this for a living is pretty cool."
A hydrometeorologist, Dave studies the water cycle with an eye toward exchanges of water between land and the atmosphere. When he's not in the field, a typical day at work involves analyzing data and writing computer models to diagnose and predict evaporation, rainfall, and stream flow. 
He focuses most of his attention on the North American Monsoon Experiment (NAME), a decade-long project to study quenching summer rains that fall each year in the southwestern United States and northern Mexico. The monsoon develops in late spring and early summer as intense sunlight heats dry inland areas across Mexico's Sierra Madre Occidental mountains and Central Plateau. With the help of large-scale circulation patterns, the warm, rising air pulls in moisture from the Atlantic and Pacific oceans and the gulfs of California and Mexico, triggering intense rains across the region.
The monsoon, which is important for farming, ranching, and wildfire control, may also hold useful clues for predicting weather in several parts of the United States. Its timing and strength vary from year to year, and its relationship to other weather features across North America is not well understood.  "What we're really trying to get at is how this regime operates as a system to affect the climate over North America in the summertime," Dave explains. 
As part of the project, Dave has set up a network of rain gauges spanning the Sierra Madre mountains, a sparsely populated region that previously lacked a sufficient rainfall monitoring network.  He visits the gauges several times each year to collect data, and collaborates with Mexican partners who monitor the gauges more frequently.
"Once we have the gauges in the field for a couple of years, we can look at all sorts of different features of precipitation, such as how precipitation changes with elevation, where it's raining a lot, and where runoff will be generated," he explains. In addition to unraveling the mystery of the monsoon, the data will also help local officials better manage the region's water resources.
Dave's focus on the North American monsoon sprang from his interest in how mountains interact with the atmosphere to create weather systems.  As a graduate student, he knew a little about the monsoon but didn't become immersed until he contacted a professor at the University of Arizona to learn more.  "This is one of the systems in the world where there is a huge influence of topography on surrounding climate.  It's really pretty remarkable," he says. 
Dave is based in NCAR's Research Applications Laboratory, a group that looks for research and engineering solutions to problems relevant to society. As a hydrometeorologist, he serves as a liaison between hydrologists, who traditionally have strong engineering backgrounds, and atmospheric scientists, who are typically oriented toward scientific research.  "The fields have been merging for the last couple of decades, but there's still a long way to go to improve the knowledge of processes in hydrology and then transfer that to the models that represent atmospheric processes," he says. 
The most challenging aspect of his job is trying to reduce complex problems into solvable parts.  "We have this huge thing called the climate system, and there's so much we don't know about it," he says.  "You have to break it into little tiny parts that you can gain a reasonable understanding of and then tie back into the bigger picture."
Dave grew up in Kansas City.  He describes his career track into science as "a combination of coincidence and happy accident." As an undergraduate at the University of Kansas, he had no clue what to study. His parents suggested engineering, but the subject failed to motivate him.  "I'd always enjoyed weather and ended up majoring in atmospheric sciences because of not finding anything more interesting to do," he recalls. "I never considered making a living out of it, though."
After graduation, Dave took a year off to ski in Colorado, which further piqued his interest in how mountains interact with the atmosphere. "Moving there with a basic understanding of atmospheric processes was pretty cool because I could see all these things I studied coming to life," he remembers. 
His next step was to Oregon State University, where he earned a master's degree in bioresources engineering, with an emphasis on water resources and the agricultural applications of meteorology and atmospheric sciences.  Afterward, he worked briefly for an engineering firm, designing irrigation systems and assessing water resources.  "I kept hitting this wall of not really having the freedom to do an inquiry-based job, where you pose questions and figure out how to solve problems," he says. 
He decided to pursue a doctoral degree that would further his longtime interest in how mountainous terrain affects weather. This took him to the University of Arizona, where he earned a Ph.D. in hydrology and water resources. "That's when the ball really started rolling and I got involved with monsoon research," he says, adding that he benefited from the excellent mentoring he received along the way from his advisors.  From Arizona, he headed to NCAR to work on NAME as a postdoctoral researcher, and later became part of the organization's permanent scientific staff.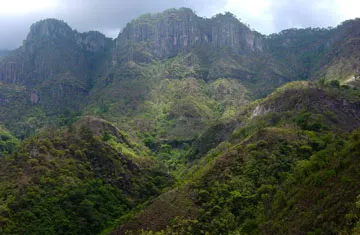 Dave says that one of the best parts of his job is fieldwork, which he's undertaken in Oregon, Kansas, and Canada, as well as Mexico. "I feel lucky in the sense that I've been able to go to a bunch of different places with different climates and do research, because I think that's what gives one a good appreciation for the diversity and complexity of the system," he says. 
Through fieldwork, Dave's learned about culture as well as climate, having discovered that rain gauges aren't the only source of valuable meteorological data in rural Mexico. "It's always interesting to get to know the people there and chat with them about their local knowledge of what's going on.  How much has it rained this year?  Did it come early or late?  There is no way to measure it all with instruments," he says. 
His favorite thing about working at NCAR is the ability to direct his own work, have a personal stake in it, and feel that he's contributing to a broader understanding of the natural world.  "There's no shortage of people in an institution like this to bounce ideas off of or potentially collaborate with," he adds.  "It's good to know that in one door, you can discuss for hours the microscopic exchange processes between plants and the air surrounding them, and in the next door you can sit back and think about what really does happen on the other side of the world when a butterfly flaps its wings."
Although Dave hasn't ruled out teaching at some point, for now he plans to stay in research.  The NAME project, which lasts until about 2010, will likely nurture a whole new crop of research questions.  "I find that there's no shortage of things to study," he says.  "It's something I can put a lot of energy into and get a lot out of at the same time.  It's a job that gives back."
by Nicole Gordon
January 2006