Accessibility
The NCAR Mesa Lab Visitor Center is committed to opening its doors to everyone, including those with disabilities and their families and friends. We are committed to ensuring an inclusive environment that promotes learning and enjoyment for visitors with diverse interests, abilities, and needs.
Accessible Parking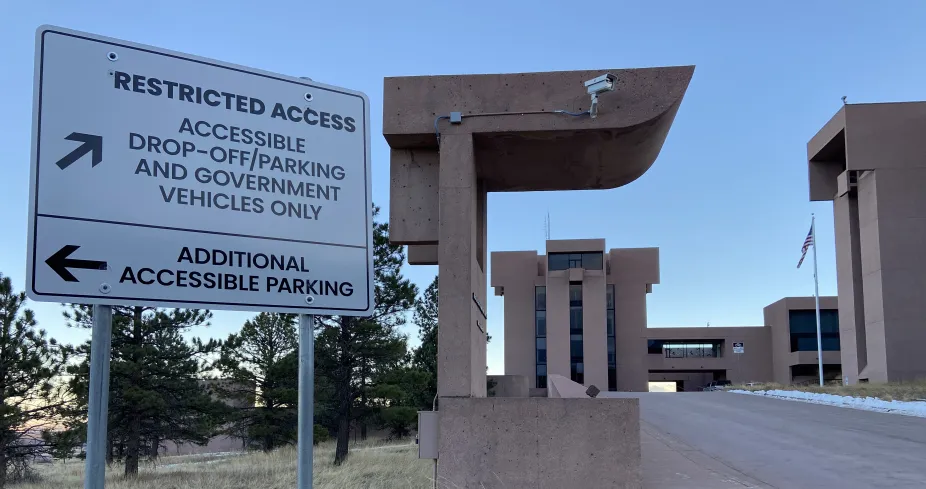 NCAR's Mesa Lab Visitor Center offers its front door entrance to those with accessibility needs. Wheelchairs are available to visitors once inside the building at the front desk reception area.
For those who need an accessible drop-off and parking, vehicles can pull into the ramped driveway directly towards the building. There are three (3) accessible parking spots available at this location. If the parking spots are full, passengers can be dropped off here, and the driver can move down to the main lot for overflow accessible parking. The main lot has ten (10) accessible parking spaces, including five (5) van-accessible parking spaces. Please note that the non-accessible drop-off is located in the main lot.
Accessible Bathroom
An all-gender, family, and accessible restroom with a changing table is located on the north end of the 2nd floor, by the Climate Stories exhibit area.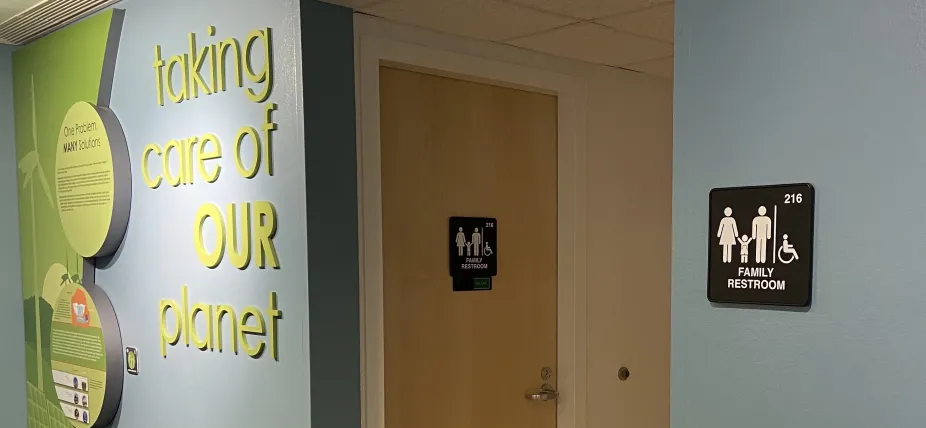 Quieter Times
School programs will often take place Monday, Tuesday, Thursday, and Friday from 10:00 a.m. - 12:00 p.m. MT and public tours happen on Monday, Wednesday, and Friday from 12:00 p.m. - 1:00 p.m. MT. During these times, the exhibits may be loud and more crowded. Weekends and holidays also tend to be more crowded.
While we don't have a designated quiet time, the quietest times to visit are on weekdays in the morning from 9:00 a.m. - 9:50 a.m. MT, and again in the afternoon from 2:00 p.m. - 3:30 p.m. MT. 
Wheelchair Check Out
There are two wheelchairs available for public use on weekdays (excluding holidays). Visitors who would like to borrow a wheelchair should visit the Mesa Lab front desk and request a wheelchair. The visitor will be expected to provide some of their contact information and will be lent a wheelchair for their visit to the Mesa Lab.
Tactile Interactives
Many of the exhibits at NCAR are touchable and tactile. In addition, our School and Public Programs team have artifacts that can be handled to bring the atmospheric sciences to life for everyone. If you are in need of additional resources to experience the Mesa Lab through touch, and are visiting between a Monday and Friday from 9:00 a.m. - 5:00 p.m. MT, please ask the staff at the front desk to contact an educator or call 303.497.2401.
Visitors can also download and use the Be My Eyes app (Android | iOS) or the Aira app (Android | iOS) to explore our exhibits.
Sensory Guide
Our Sensory Guide, linked below, is intended to assist visitors in understanding the level of interaction and stimulation for each of our hands-on exhibit features. This guide shares the level of sound, sight, touch, movement, and complexity required to engage in an interactive exhibit to help those with sensory sensitivities. The first four pages are for our tactile interactives, and the last six are for our touchscreens throughout the Visitor Center.
Sensory Tour
The School and Public Programs Team developed a Sensory Tour for groups with blind or low-vision visitors. This 2-hour tour is designed to teach visitors about the history and science of NCAR using audio and tactile engagement as tools. To inquire about this exclusive experience, please call 303.497.2401 or email the School and Public Programs Team. Please note that we need at least two weeks advanced notice before your visit in order to prepare this program.
Social Narratives
Help set expectations for your visit to the Mesa Lab by reviewing a Social Narrative document. We offer one version for our tours and another for field trips. This tool has been developed for visitors with ASD or other related disabilities, but can be used by anyone!
Learning Lab Visual Schedules
For teachers and student groups joining a field trip, we have specifically developed Visual Schedules for several of our Learning Labs. Help your students get prepared for each step of the field trip and gain confidence in independence. This resource is specifically developed for students with ASD or related disabilities, but can be beneficial for anyone! 
Open Captioning
Open captioning is available in the NCAR Theater, where visitors are invited to watch and/or listen to a 10-minute movie called Air Planet People. This video highlights the history of UCAR and NCAR, as well as their combined mission, programs, services, and research. This video is available with both English and Spanish subtitles. A selection of our short Animated Atmosphere videos and four other videos are offered in the theater: "When Nature Strikes - Wildfires", "High Altitude Observatory Solar Eclipse", "Boulder Underwater", and "DripDrop! Music Video: What's up with our climate and water?"
Interpreters
The NCAR Mesa Lab Visitor Center does not have personnel onsite to cater to interpretation needs. However, we will make every effort to meet your needs if we are given adequate lead time, at least a three weeks before your visit. Please call 303.497.2401 or email our School and Public Program Team to request an interpreter and specify American Sign Language (ASL), Signed English, or another type of interpreter needed. 
Questions or Comments
Mesa Lab Visitor Center staff are available Monday through Friday between 9:00 a.m. and 5:00 p.m. MT to assist you and answer any of your questions. Please contact us by calling 303.497.2401 or emailing the School and Public Programs Team.