Plan Your Trip

Land Acknowledgement
We have lived on this place we call Earth, a living spirit Indigenous Peoples call Mother Earth, the provider for all life. We have had a relationship for thousands of years from the top of the continent to the ends of South America and from coast to coast, most often in a nomadic way. We must recognize these Peoples who came before.
The National Center for Atmospheric Research (NCAR) honors the past, present, and future generations of Indigenous Peoples who have lived here for millennia and who hold this place sacred for perpetuity. NCAR is on the contemporary and traditional homelands of the Arapaho, Cheyenne, and Ute peoples, as well as other Indigenous peoples who have called this area home for time immemorial.
UCAR hosts the Rising Voices Center for Indigenous and Earth Sciences (Rising Voices), which facilitates opportunities for Indigenous and non-Indigenous scientific experts and community leaders from around the world to jointly address how extreme weather and climate events are impacting communities and to develop action plans. Learn more about Rising Voices on their website.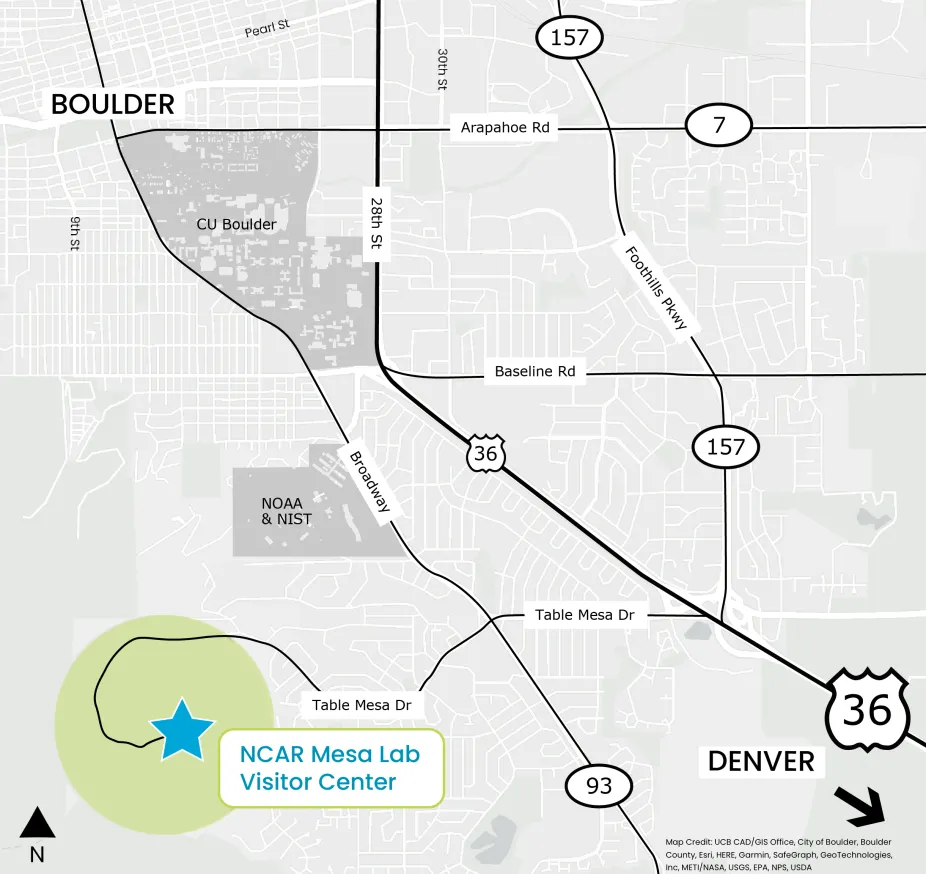 Free Admission
Entry to the NCAR Mesa Lab Visitor Center is free. Reservations are not required for individuals or groups wishing to visit the Visitor Center or participate in one of our guided noon tours for the public. 
Hours
We are open 363 days a year, every day of the week for public walk-ins during the following hours:
Monday - Friday (Weekdays): 8:00 a.m. – 5:00 p.m. MT

Saturday and Sunday (Weekends) & Holidays: 9:00 a.m. – 4:00 p.m. MT
The Visitor Center is closed two days a year for annual maintenance, one day in the Spring and one day in the Fall, and the dates are announced well in advance. To check for unexpected closures before your visit, read the NCAR Alerts page.
Directions
The Visitor Center is located at 1850 Table Mesa Drive, Boulder, CO 80305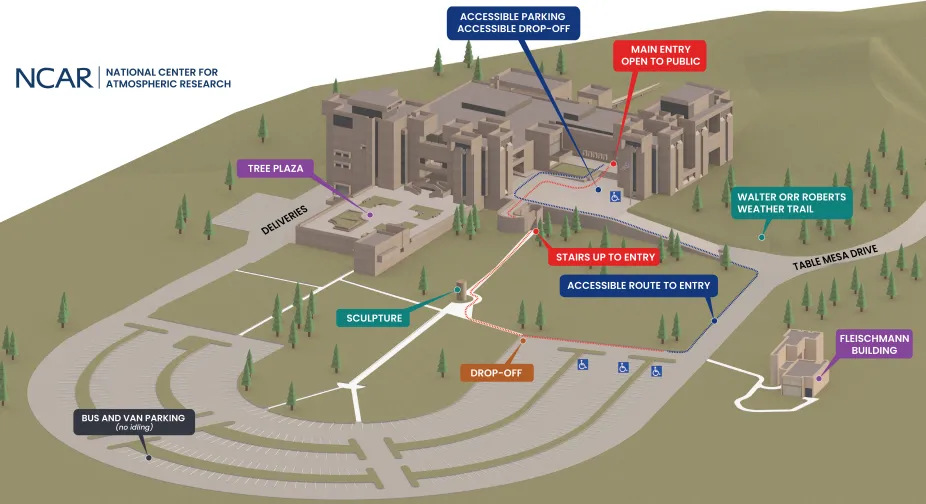 Parking Lot and Front Entrance Directions
The NCAR Mesa Lab has a dedicated parking lot for visitors and staff on the northeast side of the building. Parking in this lot is free. 
For those who need an accessible drop-off and parking, vehicles can pull into the ramped driveway directly towards the main entrance of the building. There are three (3) accessible parking spots available at this location. If the parking spots are full, passengers can be dropped off here, and the driver can move down to the main lot for overflow accessible parking. The main lot has ten (10) accessible parking spaces, including five (5) van-accessible parking spaces. Please note that general drop-off is located in the main lot, not up the ramped driveway.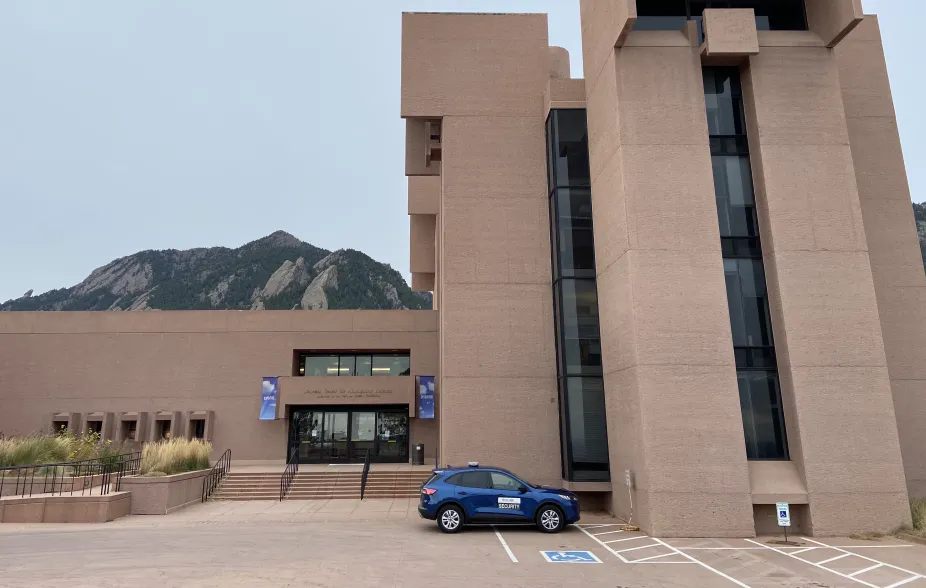 From the NCAR Mesa Lab Parking Lot, you have a few different options to get to the front of the building. When you face west, with the NCAR Mesa Lab and mountains in front of you, to the right is a concrete ramped path along the main road. Take this up towards the building, and then turn left on the sidewalk along the driveway. At the top of this road, the NCAR front doors will be to your right. The front doors have two blue banners on either side that read "Discover" and "Explore" and have text on top of the doorway that reads "National Center for Atmospheric Research sponsored by the National Science Foundation." Enter through these doors. Alternatively, multiple concrete paths from the parking area lead towards a sculpture of a tree with a bird. To the west of this sculpture is a circular set of stairs that will also take you to the main entrance.
No Public Transit
The NCAR Mesa Lab Visitor Center sits nestled into the foothills of Boulder, Colorado. There is a 1.3-mile road and 433 ft elevation gain separating the neighborhoods of Boulder and the Mesa Lab itself. Due to this, there is no Public Transportation to access the Mesa Lab. To get there, you can:
Drive a personal vehicle

Bike the road

Walk the road or three-quarter mile trail from the neighborhoods

Take a rideshare with drop off in the main parking lot (please consider scheduling a return ride before arriving)
The nearest bus stop is Table Mesa Drive and Yale Road, which gives a 2.1-mile walk/hike with a 610 ft elevation gain to the Mesa Lab front doors.
Tours and Apps
We host tours and school field trips Monday-Friday. To learn more about the programs we offer, please visit the following pages:
The UCAR Center for Science Education's NCAR Tour App provides the perfect opportunity to explore the NCAR Mesa Lab Visitor Center at your own pace. The app works on all website browsers as well as on both Android and iOS devices. iPads are also available to check out from the Front Desk during weekdays between 8:00 am and 4:00 pm MT.
La aplicación para la visita guiada de NCAR del Centro para la Educación Científica de UCAR te ofrece una oportunidad perfecta para explorar el centro de visitantes del laboratorio Mesa de NCAR a tu propio ritmo.
Health Safety Measures
The following health safety measures are in place to protect the health of our visitors, staff, and based on guidance from the Centers for Disease Control and Prevention (CDC) and local governments. We ask that all visitors follow these safety measures to protect everyone's health.
Before coming onsite, please evaluate your health. If you are feeling ill, or suspect you have been exposed to COVID-19, please reschedule your visit for another day.

Visitors are encouraged to wash and sanitize hands frequently during their visit. Hand-sanitizing stations will be available throughout our facilities.

Masks are optional in the NCAR Mesa Lab Exhibit area. While not required*, all visitors who feel more comfortable wearing a face mask during their visit are encouraged to do so. 
*NOTE: We do require masks for all students and adults who are in the Mesa Lab Classroom.
For questions or more information, please contact spp@ucar.edu
Survey
Help us improve our tours and exhibits! If you've visited the NCAR Visitor Center, please fill out our NCAR Mesa Lab Visitor Survey to provide feedback.
---
Contact Us
For questions, comments, or concerns about visiting the NCAR Mesa Lab, you can contact us using the information below! 
Phone
Recorded information: 303.497.1174

General: 303.497.1000

Program reservations (M-F): 303.497.2401