NCAR Public Tours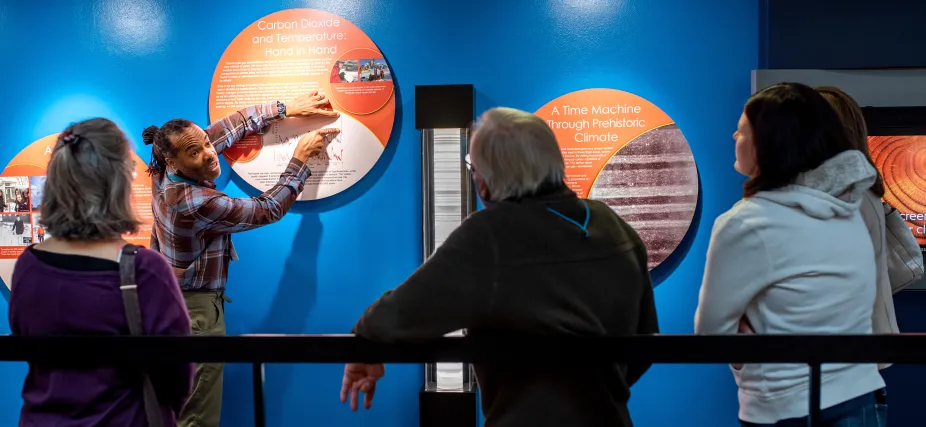 Exploring NCAR's Mesa Laboratory and Visitor Center is a fun and educational experience in the Denver metro area. The NCAR Visitor Center is open 363 days each year. Our School and Public Programs staff are on-site to answer your questions and assist you on weekdays (Monday-Friday) during business hours (9:00 am - 4:00 pm MT).
Our public and private tours are best suited for groups of adults. Kids are welcome, but the content is best for students above 5th grade. 
Public Noon Tours
Available Monday, Wednesday, and Friday from 12:00 pm (noon) – 1:00 pm MT (excluding federal holidays)
Meet up with our tour guides in the lobby to learn about atmospheric science and current research being conducted at NCAR. No reservations are necessary, and the tour is free. If you would like to let us know you are coming for a Public Noon Tour, you can reserve a ticket in advance through Eventbrite.
NCAR Public Tour App
The UCAR Center for Science Education's NCAR Tour App provides the perfect opportunity to explore the NCAR Mesa Lab Visitor Center at your own pace. The app works on all website browsers as well as on both Android and iOS devices. iPads are also available to check out from the Front Desk during weekdays between 8:00 am and 4:00 pm MT.
La aplicación para la visita guiada de NCAR del Centro para la Educación Científica de UCAR te ofrece una oportunidad perfecta para explorar el centro de visitantes del laboratorio Mesa de NCAR a tu propio ritmo.
Explore on Your Own
The NCAR Mesa Lab Visitor Center is free to visit, both as a walk-in and for any programs or tours. We are open 363 days a year, every day of the week for public walk-ins during the following hours:
Public Hours
Weekdays: 8:00 am – 5:00 pm MT

Weekends and Holidays: 9:00 am – 4:00 pm MT
The Visitor Center is closed 2 days a year for annual maintenance, and the dates are announced well in advance on our website. 
Download a map of our exhibits (PDF) or borrow one on-site to help navigate through the NCAR Visitor Center. Visitors are welcome to enjoy the exhibits on your own during public hours. Don't forget to check out the scenic Walter Orr Roberts Weather Trail located behind the Mesa Lab!
Private Group Tours
Private group tours are offered for groups of 10-30 people. Private group tours fill up on a first-come, first-serve basis. We take reservations up to 8 months in advance and require private tour requests to be submitted with at least 3 weeks notice. To make a reservation request fill out our NCAR Mesa Lab In-Person Program Request Form. Someone will get in touch with you within 7 business days. 
Field Trips
To book a PreK-12 field trip, please visit our in-person field trips page to learn about our Learning Labs. We also offer virtual field trips.
Cafeteria
The NCAR cafeteria is open to the public Monday - Friday for breakfast and lunch. The cafeteria accepts cash and credit cards. 
Breakfast: Weekdays 8:00 - 9:30 am

Lunch: Weekdays 11:30 am - 1:30 pm
You are also welcome to bring your own food to the cafeteria. Seating is available in the cafeteria or on the patio just outside the cafeteria, weather permitting. Outside of those hours, the café is closed to visitors and there isn't other food available onsite. Please see our menus to know our options and prices.  
Guest Wireless
Visitors are welcome to join our public wifi network called "UCAR Visitor". After selecting the network name from your personal device, wait for the pop up webpage to open. On this page, select "Connect" and wait for the confirmation message. You will then be connected to the network. 
Survey
Help us improve our tours and exhibits! If you've visited the NCAR Visitor Center, please fill out our NCAR Mesa Lab Visitor Survey to provide feedback.
If you have any questions, please email or call (303.497.2401) the School and Public Programs team.