NCAR Public Tours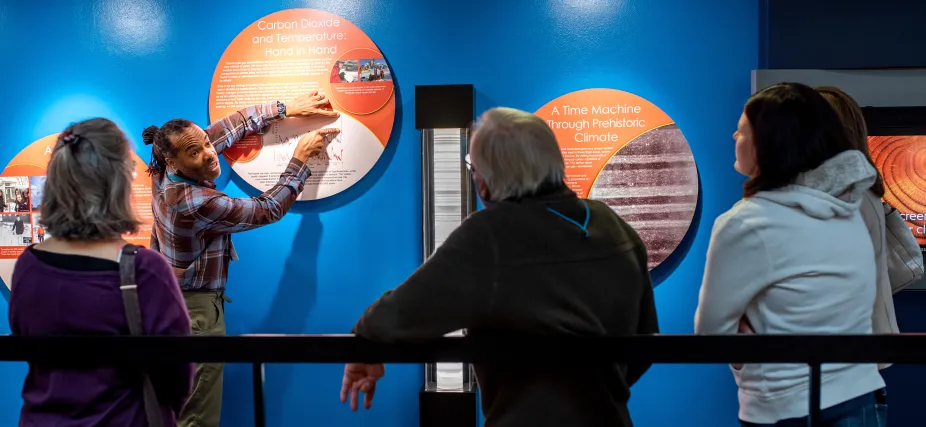 Our School and Public Programs staff are on-site to answer your questions and assist you on weekdays (Monday-Friday) during business hours (9:00 am - 4:00 pm MT). Our public and private tours are best suited for groups of adults. Kids are welcome, but the content is best for students above 5th grade. 
Public Noon Tours
Available Monday, Wednesday, and Friday from 12:00 pm (noon) – 1:00 pm MT (excluding federal holidays). During the summer (June-August), public noon tours will also be offered on Saturdays (12:00-1:00 pm MT)
Meet up with our tour guides in the lobby to learn about atmospheric science and current research being conducted at NCAR. No reservations are necessary, and the tour is free. If you would like to let us know you are coming for a Public Noon Tour, you can reserve a ticket in advance through Eventbrite.
NCAR Public Tour App
The UCAR Center for Science Education's NCAR Tour App provides the perfect opportunity to explore the NCAR Mesa Lab Visitor Center at your own pace. The app works on all website browsers as well as on both Android and iOS devices. iPads are also available to check out from the Front Desk during weekdays between 8:00 am and 4:00 pm MT. Free wifi is available onsite through the "UCAR Visitor" network. 
La aplicación para la visita guiada de NCAR del Centro para la Educación Científica de UCAR te ofrece una oportunidad perfecta para explorar el centro de visitantes del laboratorio Mesa de NCAR a tu propio ritmo.
Private Group Tours
Private group tours are offered for groups of 10-30 people. Private group tours fill up on a first-come, first-serve basis. We take reservations up to 8 months in advance and require private tour requests to be submitted with at least 3 weeks' notice. To make a reservation request, fill out our In-Person Program Request Form. Someone will get in touch with you within 7 business days. 
Sensory Tour
The School and Public Programs Team developed a Sensory Tour for groups with blind or low vision visitors. This 2-hour tour is designed to teach visitors about the history and science of NCAR using audio and tactile engagement as tools. To inquire about this exclusive experience, please call 303.497.2401 or email the School and Public Programs Team. Please note that we need at least four weeks advanced notice before your visit in order to prepare this program.
Tour Social Narrative
Set expectations for our tour by reviewing our NCAR Public and Private Tour Social Narrative document. This tool has been developed for visitors with ASD or other associated disabilities, but can be used by anyone! 
Explore on Your Own
The NCAR Mesa Lab Visitor Center is free to visit, both as a walk-in and for any programs or tours. We are open 363 days a year*, every day of the week for public walk-ins on weekdays from 8:00 am – 5:00 pm MT and on weekends and holidays from 9:00 am – 4:00 pm MT.
Review the NCAR Visitor Map before visiting or borrow one on-site to help navigate through the NCAR Visitor Center. Visitors are welcome to enjoy the exhibits on their own during public hours. Don't forget to check out the scenic Walter Orr Roberts Weather Trail located behind the Mesa Lab!
*The Visitor Center is closed 2 days a year for annual maintenance, and the dates are announced well in advance on our website. 
Field Trips
To book a PreK-12 field trip, please visit our in-person field trips page to learn about our Learning Labs. We can also drop directly into your classroom with a virtual field trip.
Survey
Help us improve our tours and exhibits! If you've visited the NCAR Visitor Center, please fill out our NCAR Mesa Lab Visitor Survey to provide feedback.
If you have any questions, please email or call (303.497.2401) the School and Public Programs team.