Gary New - NWSC Operations Manager; Engineer
"Finger on the Pulse" of the NCAR Wyoming Supercomputing Center
What influenced you to pursue a career in science and/or engineering?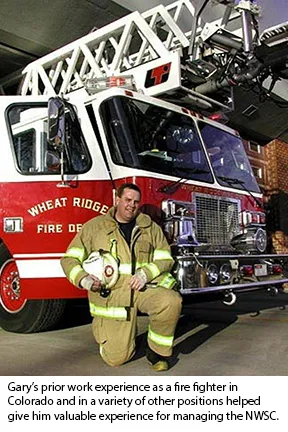 I grew up in a hard working family. My Father worked primarily in construction. I have been privileged throughout my career to be in a position where I could learn many things in several trades. My background is primarily in engineering and science, with both playing a big part in what I do when it comes to systems. For instance the NCAR Wyoming Super Computing Center (NWSC) is in a constant dynamic dance where the building systems must interact with the atmospheric conditions outside the facility. In this climate, where you can have several temperature degree swings in a single day, it becomes a challenge for the building systems to adjust accordingly.
Who are you at work and what does a typical workday look like? (Please introduce what you do as well.)
I am the Operations Manager at the NWSC. What I do is work for everyone here. I truly see it that way, not the other way around. We have a very talented and professional team of people that work at the NWSC and I see my job as getting them everything they need to be successful. My typical day consists of checking in with the NWSC management team and the staff to keep my "finger on the pulse" of the facility operations. Approving purchase requisitions, facility planning, regulatory agency compliance, subcontractor management, etc. are all part of normal operations.
Who are you outside of work?
I like volunteering and being active whether doing home improvement projects on my house or working on the Grounds Committee for Cheyenne Frontier Days for instance.  Being active in my community has always been important to me. I really like living in Cheyenne. This year is special as it is Cheyenne's 150th birthday!
What has been your favorite work-related experience?
I would have to say that this is a long list. My all-time favorite is being a part of the conceptual design, construction design, construction, and operations of the NWSC.  Many career people can have pieces of a project like this but in my case going through 7 years of designing the facility; being onsite as the Assistant Project Engineer during construction; assuming the role of Operations Manager once completed; and operating the facility for 6 years now have been a real blessing for me. I am very proud to be a part of it all.
The Power of One: If you could thank only one person for academic or career support, who would that be?
This too is a long list of people that have influenced my career. I would have to say that one person at the top of the list that I view as a mentor, friend, and teammate is Aaron Andersen - Deputy Director of the Operations and Services Division of NCAR's Computational and Information Systems Laboratory. Aaron is 16 years my junior but he and I have made a very dynamic team. My experience (primarily electrical and facility management) coupled with his mechanical and computer science education have made us a very effective team. I would say the partnership has been very beneficial to both of us.
What advice would you offer to someone interested in a career like your own?
For a career such as this, my advice is to be a sponge your entire life. You must be willing to learn new things and understand all aspects of computer and facility systems. Back in the day, facilities had little to do with information technology (IT); that is certainly no longer the case, IT and facilities are very co-dependent.