Pumping Iron: How Dust Can Change the Climate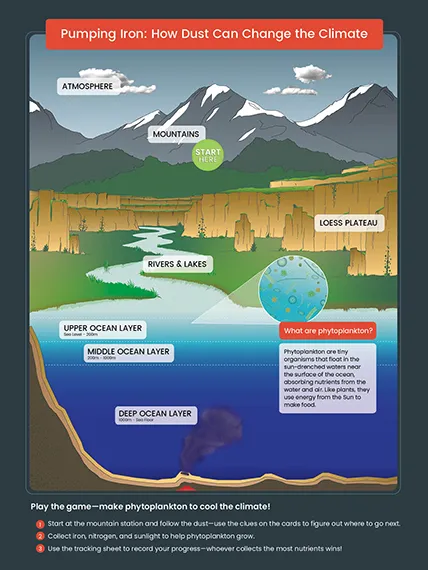 About the game
Dust forms when tiny, fine particles of rock are lofted into the air by winds. When nutrient-rich dust settles into the ocean, it stimulates phytoplankton growth, which leads to the drawdown of carbon dioxide from the atmosphere through photosynthesis. This has a cooling effect on the climate.
In this station-based game, players collect nutrients that phytoplankton need to live as they follow dust moving throughout the Earth system - the player with the most nutrients wins!
Game resources
Professional print ready files:
Notes:
Intro Poster: The print size for the Intro Poster is 18x24 and not set up for standard page size printing on a home or office printer. If you cannot print the 18x24 version, the Intro Poster is also provided as an image file meant for projecting on a wall or screen.
Game Cards: The professional printing version of the Pumping Iron Card Decks will print each card as 4x5 (two cards per page). The print at home version will print four cards per page. Double-sided printing is required for both file versions.