Solar Eclipse Viewing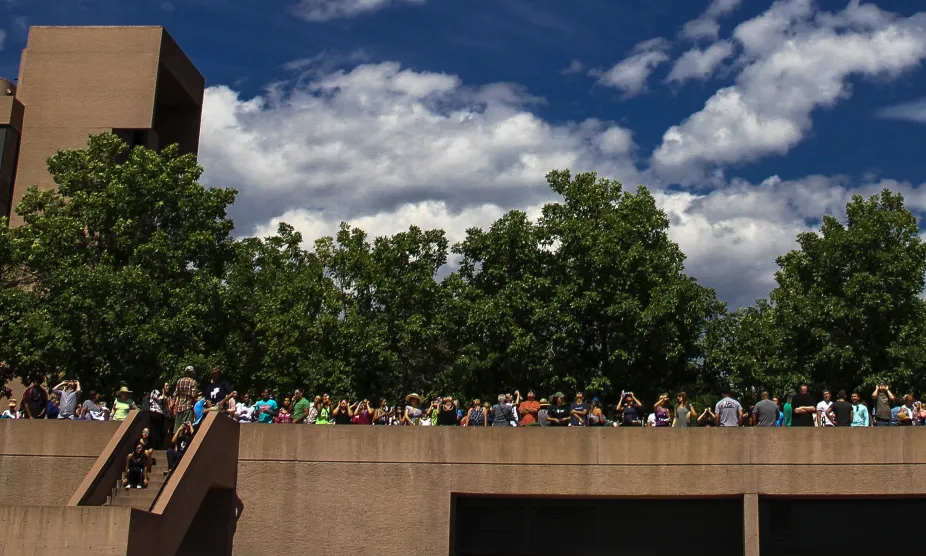 Annular Solar Eclipse Viewing at the NCAR Mesa Lab
October 14,  9:00 am - 12:00 pm MT
Looking for a spot to watch the October 14, 2023 Annular Eclipse? Come join us at the National Center for Atmospheric Research Mesa Lab to view this exciting phenomenon! This partial solar eclipse will begin at 9:13 am and reach a maximum of ~80% coverage of the Sun at 10:35 am. From 9:00 am - 12:00 pm, we'll have free hands-on activities for the whole family and a solar astrophysicist from the NCAR High Altitude Observatory answering questions. Parking may be limited, so please plan accordingly.
---
The majority of this event will be outside on the Mesa Lab Tree Plaza. Some limited programming will happen inside the building. Masks are optional for all attendees at the event.
Out of respect for our Native American communities, we recognize that different cultures have varying beliefs and traditions around eclipse viewing. We wish everyone a safe eclipse.
If you are looking for our next science celebration, join us on Saturday, November 4 for Super Science Saturday.