Super Science Saturday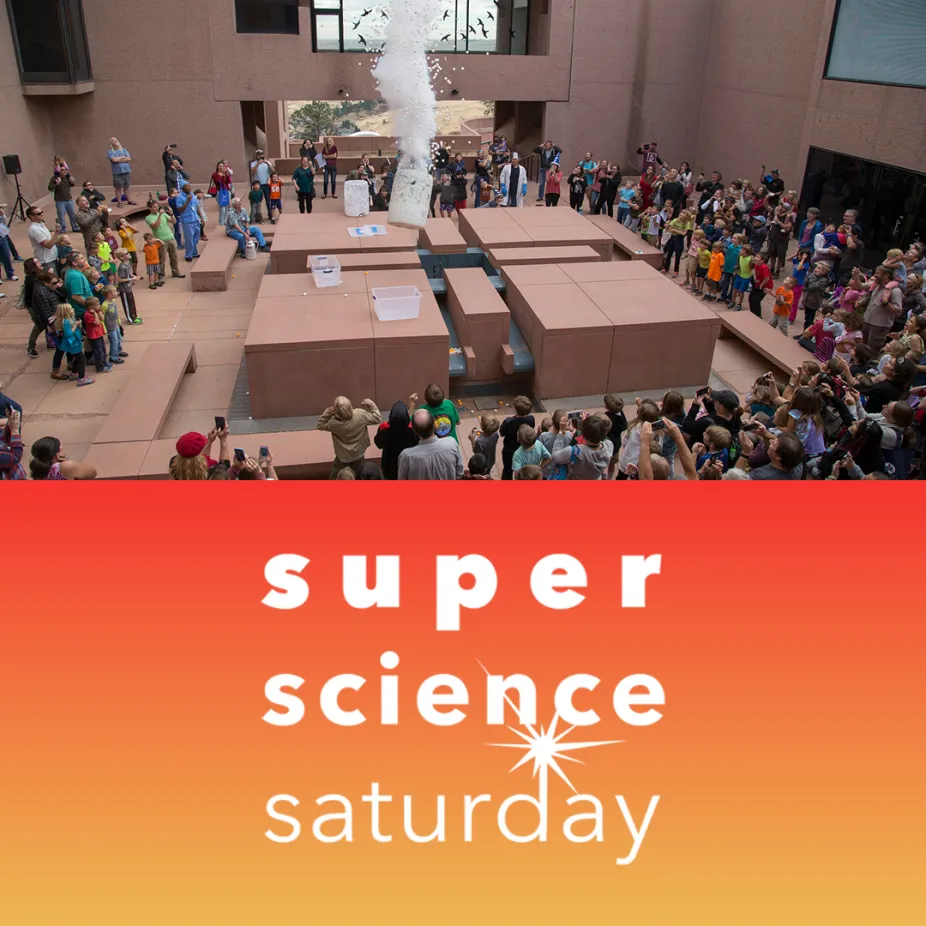 Super Science Saturday is a public science celebration that draws thousands of excited and curious people of all ages to the NCAR Mesa Lab to explore science!
This event is planned by the UCAR Center for Science Education with support from other UCAR/NCAR/UCP programs and local science education organizations.
Join us each fall for a fun day of science!
---
Super Science Saturday will return Fall 2023. Please watch this page and/or follow us on social media (links in the footer of our website) for updates.
2021 Super Science Saturday was held virtually November 6
Click on the links below to watch the recordings of each Super Science session!
"It Really IS Rocket Science!" 

How do scientists studying the atmosphere actually collect information? Watch as NCAR scientists launch a rocket carrying instruments for measuring atmospheric conditions, and find out what they learn.

Super Science Replay: Watch a video from last year's event, and play along with a hands-on experiment called a "farting bag"! *You'll need vinegar, baking soda, and a sealable plastic Ziploc baggie to do the experiment.
Guided virtual tour of the NCAR Wyoming Supercomputer Center and learn about NCAR's brand-new supercomputer, complete with augmented reality! 
Super Science Snack (morning edition): Whip up a quick snack with NCAR's Chef Nancy and find out some surprising science facts along the way.
Hide-and-Science: The NCAR "Science Wizards" play a game of hide-and-seek around the Mesa Lab, using their knowledge of various science concepts to find each other.
Surprise Science for Tiny Scientists: a live interactive program for kids ages 3-7, with our friends from Beanstalk.
Fact or Fib? Spot the Science: Join a game of separating scientific fact from fiction, and test your ability to discern the truth.
Super Science Snack (afternoon edition): Whip up a quick snack with NCAR's Chef Nancy and find out some surprising science facts along the way. 
Guided virtual tour of NCAR's Research Aviation Facility and get a behind-the-scenes look at our Gulfstream V research jet.
Athena's Birthday Balloon Mystery: Zeus notices something strange about the balloons he's bringing to Athena's birthday party, and does a little exploration of how the gas helium acts in the air.
Exploring the CO2 (Bi)cycle: What's carbon dioxide and why does it matter? A few of our scientists take to the streets—biking the hill to the NCAR Mesa Lab—to investigate a giant pocket of CO2 in the air. 
Annual Super Science Saturday ping-pong ball explosion! 
2020 Super Science Saturday Archive
The NCAR Mesa Lab remained closed through fall 2020 due to COVID-19, but Super Science Saturday prevailed! We held the event virtually on November 7, with a full day of exciting online demos and experiments from augmented reality to infrared radiation to the physics behind medieval trebuchets. We even had a special guest appearance by Mike Nelson, Chief Meteorologist for Denver's Channel 7, who did his Tornado Dance for us! 
Explore the fun of Super Science Saturday!
Links to presentation recordings: 
For more information: Contact the School and Public Programs Team at spp@ucar.edu.