Where there's smoke there's fire… and air pollution
Sometimes the smell of burning wood is not a woodstove or a campfire. It's the smell of smoke from a wildfire.
Wildfires release many different compounds into the air including carbon dioxide, carbon monoxide, nitrogen oxides, volatile organic compounds, and particulate matter. The biggest health concern from wildfire smoke is particulate matter.
Particulate matter, is the name for a whole range of liquid droplets and solid specks in the air. Some are so small that they are invisible. Others are as large as a piece of dust. The smaller a particulate is, the longer it can stay in the atmosphere before falling to the ground. Particulate matter can get lodged deep within lungs. Exposure to high levels of particulates increases risk of respiratory disease, cardiovascular disease, and lung cancer.
While all particulate matter is small, the particulate matter in wildfire smoke tends to be extremely small. It's so small that it is able to travel deep into our lungs when we breathe it in, which is hazardous, especially for people with asthma and other lung problems.
Tracking Wildfire Smoke with Sensors
Monitoring air pollution helps us understand where wildfire smoke is traveling. Sensors are used to measure the amount of pollutants in air, such as particulate matter. Below is an example of how a sensor recorded air pollution during a small wildfire in 2017.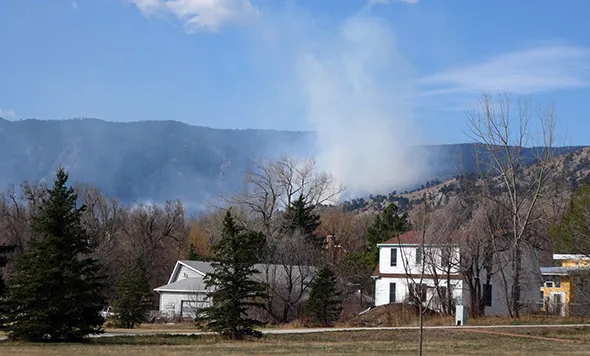 About eight miles south of the fire sits the National Center for Atmospheric Research (NCAR). In the air quality exhibit at NCAR, visitors can peruse data about local levels of two air pollutants: ground level ozoneand particulate matter. The graph below shows the spike in particulate matter that was recorded in the exhibit when the fire was burning on March 19. The smoke from the fire wasn't visible that far away, but the particulate matter was in the air and recorded by the sensor.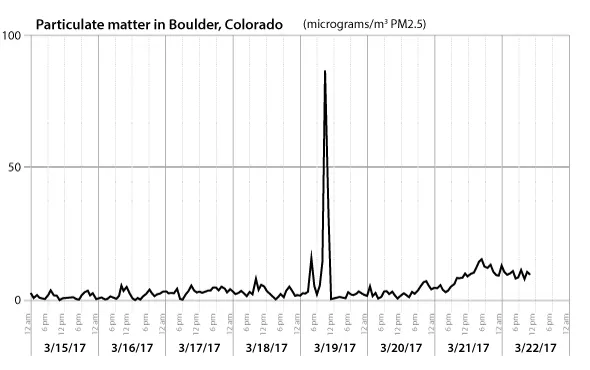 According to U.S. National Ambient Air Quality Standards, healthy air has less than 35 micrograms of the smallest particulates per cubic meter of air over a 24 hour period. (The standard is averaged over 24 hours because instruments used to provide data over longer time periods.) The spike in particulate matter during the fire, about 80 micrograms per cubic meter of air, didn't last very long, but it's still not healthy to breathe. We do not breathe air averaged over 24 hours. When smoke is in the air, consider staying indoors and reducing the amount you exercise outdoors.
If you are planning your visit to NCAR, be sure to check out the air quality exhibit which was developed by the UCAR Center for Science Education in collaboration with the Regional Air Quality Council, and several NCAR scientists who research air pollutants.